This article explains about how to File a Complaint without Visiting the Police Station.
---
Introduction
Why is it that some women choose to ignore their stalkers instead of approaching a police station?
It is usually because they are intimidated by the thought of approaching the police or feel that the police might not prove to be helpful.
But, do you know that it is simply possible to get a complaint registered by a woman if she is unable to Visit the police or if there has been a refusal to register a complaint by the authorities?
How to file and where to file a complaint
This is possible through the channel of NCW (National Commission For Women).
Recently, The National Commission For Women in the infamous incident of Boys Locker Room had taken a Suo-moto cognizance of the matter and had ordered a probe into the matter.
The National Commission of women has worked hard since its formation in order to achieve the following objectives-
Review the Constitutional and Legal safeguards for women;
Recommend remedial legislative measures;
Facilitate redressal of grievances and advise the Government on all policy matters affecting women.
Also Read: Procedure to adopt a child under Hindu Law
The Complaints and Investigation Cell of the Commission processess all the complaints whether received written or Suo-motu under Section 10 of the NCW Act.
The complaints received may be related to stalking, domestic violence, harassment, dowry, torture, desertion, bigamy, rape, refusal to register FIR, cruelty by husband, deprivation, gender discrimination and sexual harassment at workplace.
To File a Complaint, Visit the Below Mentioned Link http://ncwapps.nic.in/onlinecomplaintsv2/frmPubRegistration.aspx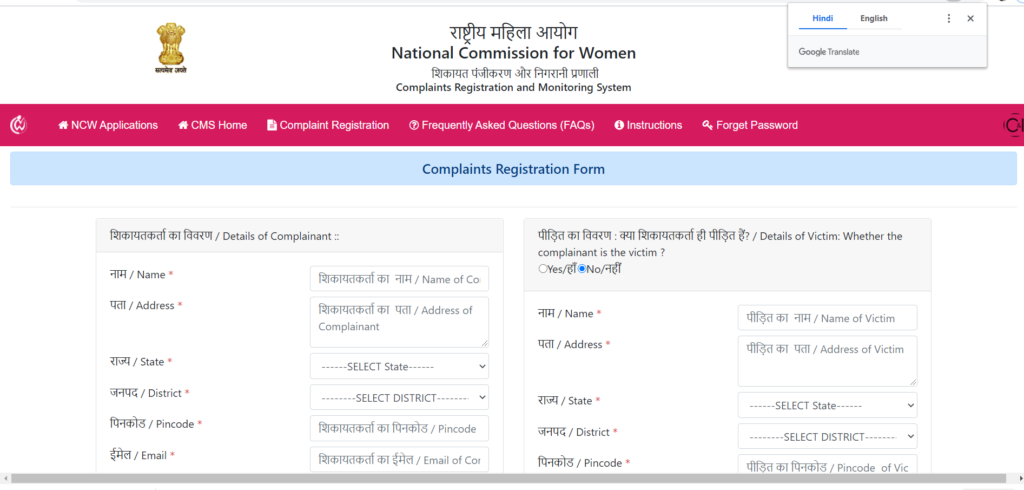 The Hon'ble Commission can be directly contacted
E-mail- complaintcell-ncw@nic.in
Contact +91-11-26944880, +91-11-26944883
File a Complaint without Visiting the Police Station File a Complaint without Visiting the Police Station